Aerin Lai and Dr Radhika Govinda

As part of 2022's Spring into Methods series, 'Doing Feminist Research', co-convened by genderED and the Strathclyde University Feminist Research Network garnered significant interest and participation from 25 PhD researchers from various universities in Scotland and from across arts and humanities and social sciences disciplines. This cross-disciplinary nature of the workshop discussions enabled participants to engage with a diverse set of research methods that feminists employ.
Held from 4-6 May, this year's workshop took on a hybrid model where participants were able to meet in person for the first two days on University of Edinburgh campus (hosted by genderED), and online for the final day over Zoom (hosted by Strathclyde University Feminist Research Network).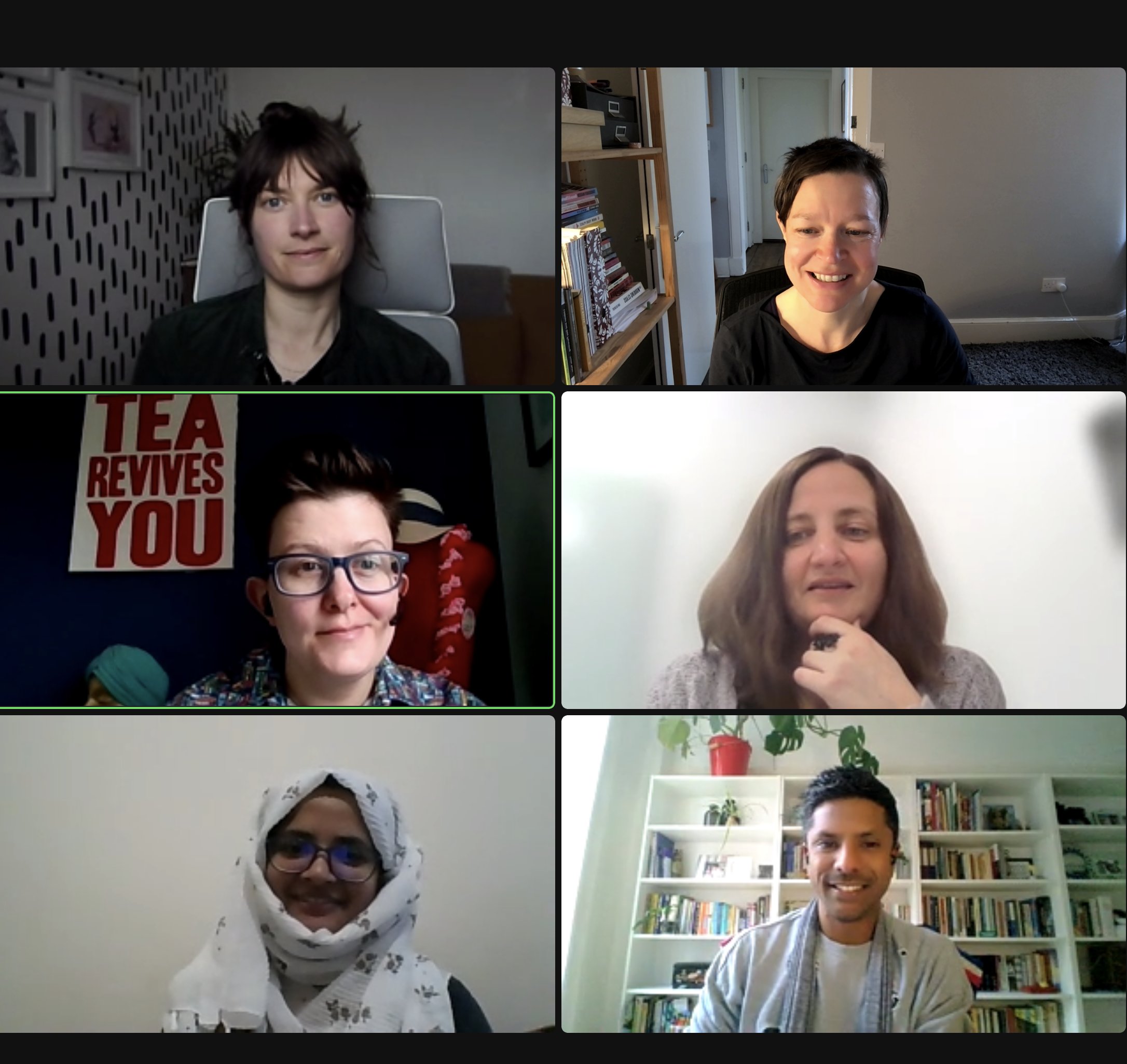 Team members leading the sessions drew on their own research practice and disciplinary expertise while addressing the following themes on power, intersectionality, ethics, the value of 'lived experience', which underpin feminist research across disciplines. Also, those hosting workshop sessions provided different methods as tools to approach feminist research.
In particular, this year's workshop sessions had a strong focus on peer-learning and facilitation of meaningful conversations about feminist research. For example, Dr Katucha Bento and Dr Ashlee Christoffersen led their session with a 'long table' that encouraged participants to come together to talk about decoloniality and intersectionality in their own research projects and approaches. The point of this long table was to ensure organic dialogue through sharing while disrupting hierarchies and enabling everyone to be listened to equally.
There was also new appreciation for creative research methods during workshop sessions, where members such as Dr Rebecca Hewer and Dr Harvey Humphrey encouraged participants to write up found poems. This followed their respective presentations on critical discourse analysis and on academic writing as a form of creative practice.
 Participants were given opportunities to further these discussions outwith the workshop sessions through several events including a dinner at Kalpna Restaurant (Edinburgh). Further, genderED organised a networking reception in collaboration with Postgraduate Gender Research Network for Scotland (PGRNS) for participants to find out more about PGRNS and other feminist networks in Scotland.
Participants were each given a 'learning pack', which included the workshop programme, a set of writing and drawing materials for Dr Harvey Humphrey's session, '(Re)Writing academic texts as creative practice', together with the comic book publication Feminist Struggles in the Academy in India and the UK. Cat Wayland's session on (Re)Presenting collective feminist knowledge-in-the-making focused on this publication.
A list of suggested readings and presentation slides were made available through the SGSSS-SGSAH online learning platform, Social. These included webpages to previous projects such as Prof Yvette Taylor (co-lead of this workshop)'s researching class and sexuality over the long term and Dr Radhika Govinda's 'Teaching Feminisms, Transforming Lives' project. The suggested reading list also featured chapters from the 2022 volume, Doing Feminisms in the Academy (edited by R. Govinda, F. Mackay, K. Menon and R. Sen).
This helped participants to engage with the materials before the workshop and enabled deeper dialogues during the workshops. Further, it mitigated any accessibility concerns from attendees.
After a long hiatus from in-person workshops due to the COVID-19 pandemic, participants very much appreciated the in-person interaction, how approachable the teams delivering the workshop sessions were, the opportunity to network, and also the good food.
Attendees were sent a feedback form consisting of the following questions:
 Feminist methods to me are…
To future workshop attendees…
My key takeaways from the workshop are…
Here's some of the feedback they provided on the forms and also by email:
'I have had the most incredible few days on this course, learning so much and meeting incredible people! Can't wait to continuing following the amazing research of all the attendees. Huge thanks to all who organised ☺'
'To future workshop attendees, I thought there would be several segments of this intensive workshop programme that would not be applicable or interesting to me. I was so surprised to find that every session was interesting, useful and inspiring. If you are daunted by the amount of suggested reading, be assured that you don't need to read it in advance in order to appreciate the sessions, but it's there for you to delve further into whichever sessions you find most relevant.'
'Thank you so much for the workshop. It was the first time I have ever been taught by Black and Asian scholars. How have I made it to a PhD without having this, I have no idea, but what a pleasure it was.'
'Thank you for the amazing sessions at the workshop last week, it was absolutely fantastic and has already benefitted my research project in more ways than I can think of.'
Besides this post, we have several blog posts lined up centred on reflections on the workshop and doing feminist research written by two attendees. Stay tuned for these posts on our genderED website!